Monday 24th August 2015 3 AM: our alarm clock rang. It was time to get to Hamburg Airport. Thanks to the Morning-Shuttle-Service from my mom, we reached our Terminal at 4:15. Thank you once again for the ride! Unfortunately there was no ground staff yet at Terminal 1. Even the machine for the luggage drop-off did not work and greeted us with the following message "This machine will be available for you again shortly." Small tip for everyone: Do not stress yourself! Lufthasa starts their business at 4:30 AM.
The baggage handling was otherwise smooth. Only my backpack was waved out at the security check. The suspects were our ICE candies 😀 We went for a small shopping tour through the Heinemann Duty Free and bought thanks to my membercard and a voucher 2x chocolate and 1x gummy bears for only 1.30 €. And as a thank you we received vouchers for two hot drinks in the Marché.
Our Boarding of flight LH001 to Frankfurt started at 5:30 AM and our A321 took off at 6:00 AM. The culinary higlights of our flight was a granola chocolate bar. The flight time to Frankfurt should only be 45 minutes according to our flight captain and this was actually the case. So we ended upt 30 minutes before the scheduled Arrival in Frankfurt. Accordingly, our gate was still occupied.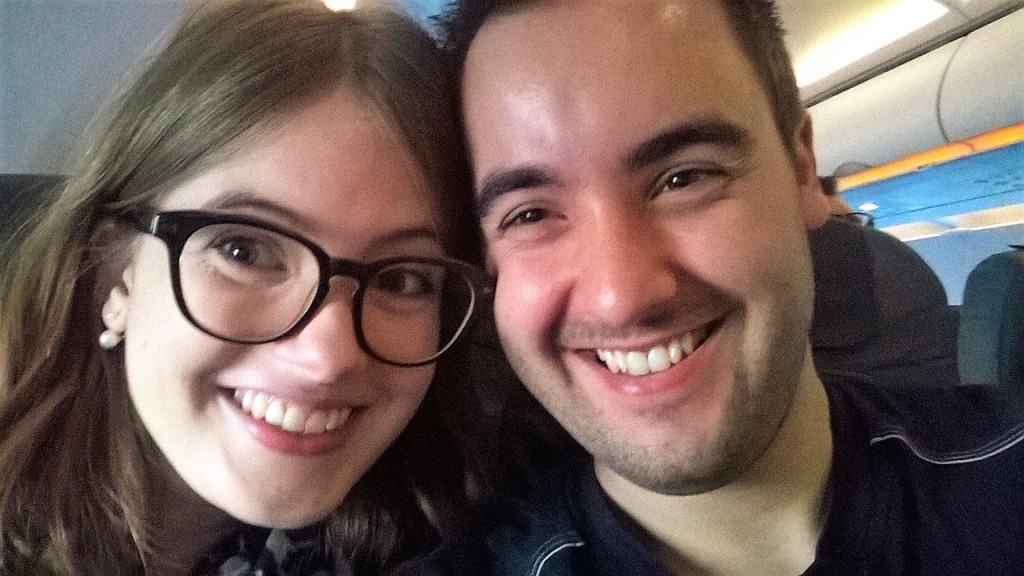 The boarding for our flight SQ26 to New York should start at 7:40. We had no stress and were able to enjoy the long way to our boarding gate. And while we were coming across some gates, one of the latest planes from Airbus suddenly appeared – the A350XWB.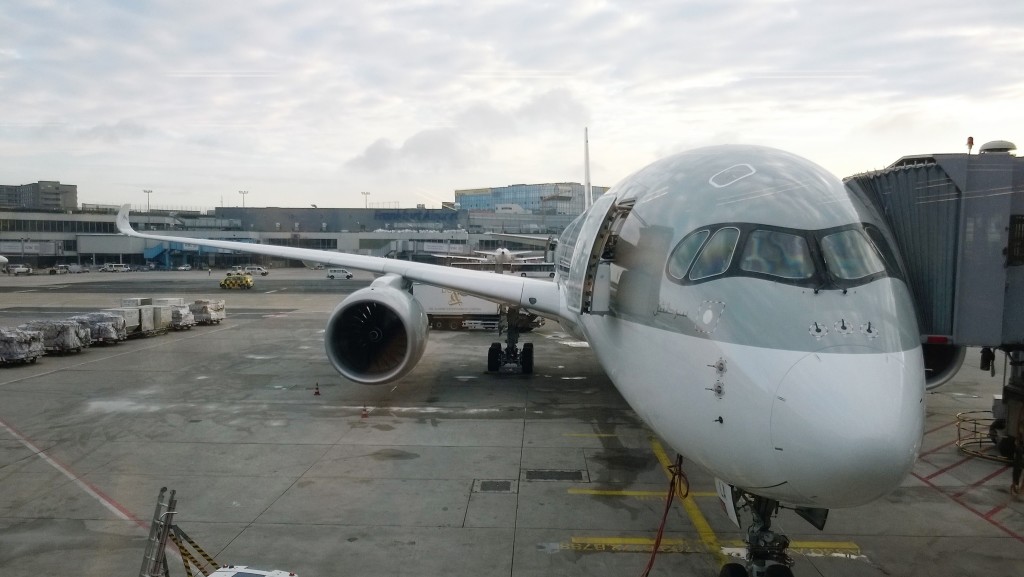 But now to our A380. There she stood: graceful and large but not easy to photograph.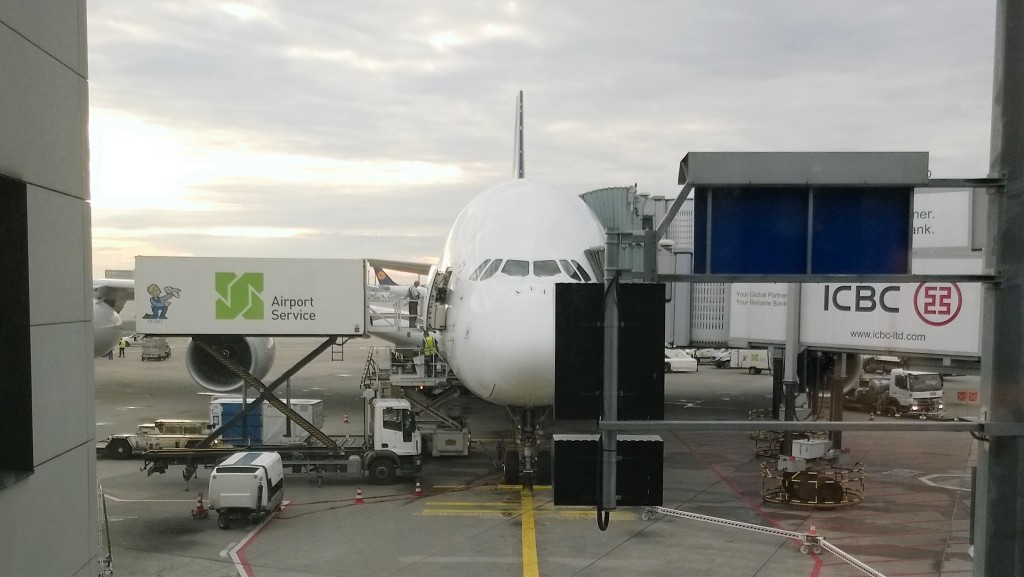 We wanted to sit down, but suddenly there was a loudspeaker announcement and some names were called out. That you all know for sure from airports and well one barely listens. So the voice called out: "Mr. Schwarzbach […] Mrs. Stendel […]". We look at each other: What? We? Have we done something wrong? Are our seats overbooked? So again we took all our belongings and went to the Counter.
All clear! Since we had checked in with Lufthansa, our travel dates were missing in the Singapore Airlines database. Despite the so-called code-sharing, the data exchange between the airlines does seemingly not always run smoothly. Our data has been supplemented and while we wanted to sit again the real boarding began. To our astonishment, it went really, really fast. Before 8:40 o'clock, the staff had locked the doors. I had it particularly "great" – I got Mr. stinkyas the hottest seat neighbour you could possibly want on a long-haul flight. Luckily the aircon was able to distribute the fragrance of the friendly-looking gentlemen in the remaining space of the cabin. 😀
Short after the A380 took off. You could describe it as simply huge and super quite! Rico had fun observing the wings and the aerodynamic effects. The A380 is just awesome! During the flight we were well treated by the cabin crew. It was literally an eating event. Singapore Airlines has spoiled us with two tasty menus (brunch and dinner), snacks, ice cream and drinks.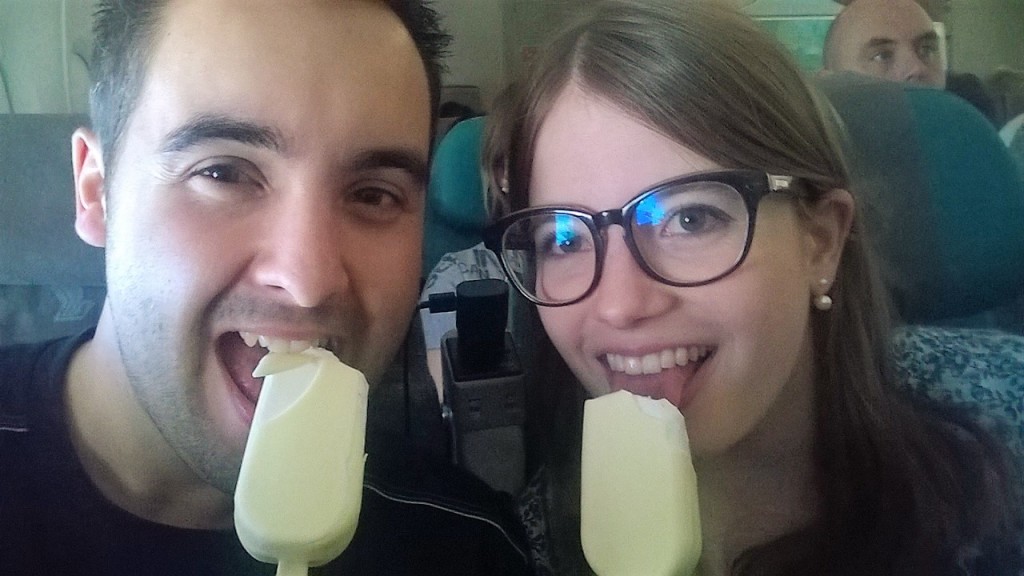 On this flight too, we broke through the space and time continuum. Instead of the planned 11:10 AM, we landed at 10:30 AM in New York! Good performance, but what followed was not so nice…